What to Bring
Your camera, boots, gloves, coats (dress in layers), and your whole family (even the dog!)
---
Sunday-Friday*
Noon to 5:30 p.m.
Saturday
9 a.m. to 5:30 p.m.
We are available to discuss wholesale arrangements year round.
---
Elk River Evergreens
P.O. Box 117
121 Brooks Shell Road
Elk Park, NC 28622
(828)387-7695
We love seeing your pictures! Please share them on the Facebook page or email them to EREpictures@gmail.com.
Welcome!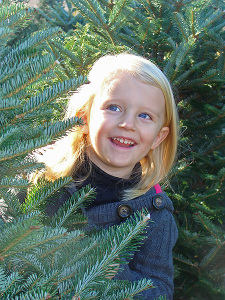 Elk River Evergreens is now Closed for the 2015 season. We want to thank you for making this a wonderful year! Have a very Merry Christmas, and we look forward to seeing you again in November of 2016!
Nothing makes celebrating the Christmas season special like having a natural Christmas tree. At Elk River Evergreens, we grow America's most popular Christmas tree, the Fraser fir, by the thousands. We sell them directly to our customers at the Ellis Family Farm in Elk Park, North Carolina.
At our Ellis Family choose 'n cut farm, our customers find more than just a convenient location to pick a natural Christmas tree. They find a family-owned and operated business with friendly, hard-working staff who make every effort to help them find the trees, wreaths, roping, and décor they need.
Rounding out the experience of finding the perfect tree are our wonderful Gift Shop, complimentary hot cocoa and cider, popcorn, and endless photo-ops our farm provides.
Thanks for letting our family be part of your Christmas traditions!  We can't wait to see you for the 2015 Season!